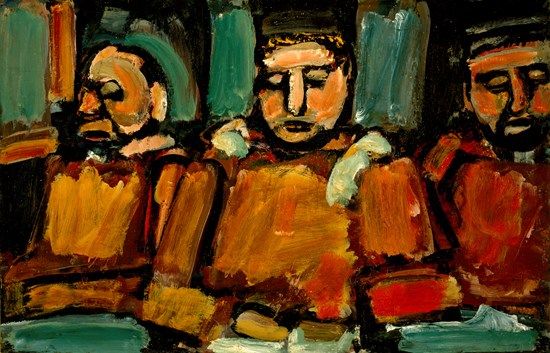 You shall break them with a rod of iron;
You shall dash them to pieces like a potter's vessel.
Now therefore, be wise, O kings; Be instructed, you judges of the earth.—Psalm 2:9-10
Isaiah 30:8-14

Now go, write it before them on a tablet,
And note it on a scroll,
That it may be for time to come,
Forever and ever:
That this is a rebellious people,
Lying children,
Children who will not hear the law of the Lord;
Who say to the seers, "Do not see,"
And to the prophets, "Do not prophesy to us right things;
Speak to us smooth things, prophesy deceits.
11Get out of the way,
Turn aside from the path,
Cause the Holy One of Israel
To cease from before us."

Therefore thus says the Holy One of Israel:

"Because you despise this word,
And trust in oppression and perversity,
And rely on them,
Therefore this iniquity shall be to you
Like a breach ready to fall,
A bulge in a high wall,
Whose breaking comes suddenly, in an instant.
And He shall break it like the breaking of the potter's vessel,
Which is broken in pieces;
He shall not spare.
So there shall not be found among its fragments
A shard to take fire from the hearth,
Or to take water from the cistern."
—-
Ezekiel 13:3-14

Thus says the Lord God: "Woe to the foolish prophets, who follow their own spirit and have seen nothing! O Israel, your prophets are like foxes in the deserts. You have not gone up into the gaps to build a wall for the house of Israel to stand in battle on the day of the Lord. They have envisioned futility and false divination, saying, 'Thus says the Lord!' But the Lord has not sent them; yet they hope that the word may be confirmed. Have you not seen a futile vision, and have you not spoken false divination? You say,

'The Lord says,' but I have not spoken."

Therefore thus says the Lord God: "Because you have spoken nonsense and envisioned lies, therefore I am indeed against you," says the Lord God. "My hand will be against the prophets who envision futility and who divine lies; they shall not be in the assembly of My people, nor be written in the record of the house of Israel, nor shall they enter into the land of Israel. Then you shall know that I am the Lord God.

"Because, indeed, because they have seduced My people, saying, 'Peace!' when there is no peace—and one builds a wall, and they plaster it with untempered mortar—say to those who plaster it with untempered mortar, that it will fall. There will be flooding rain, and you, O great hailstones, shall fall; and a stormy wind shall tear it down. Surely, when the wall has fallen, will it not be said to you, 'Where is the mortar with which you plastered it?'"

Therefore thus says the Lord God: "I will cause a stormy wind to break forth in My fury; and there shall be a flooding rain in My anger, and great hailstones in fury to consume it. So I will break down the wall you have plastered with untempered mortar, and bring it down to the ground, so that its foundation will be uncovered; it will fall, and you shall be consumed in the midst of it. Then you shall know that I am the Lord.
—
Isaiah 28:14-19
Therefore hear the word of the Lord, you scornful men,Who rule this people who are in Jerusalem,Because you have said, "We have made a covenant with death,And with Sheol we are in agreement.When the overflowing scourge passes through,It will not come to us,For we have made lies our refuge,And under falsehood we have hidden ourselves."

A Cornerstone in Zion
Therefore thus says the Lord God: "Behold, I lay in Zion a stone for a foundation, A tried stone, a precious cornerstone, a sure foundation; Whoever believes will not act hastily. Also I will make justice the measuring line, And righteousness the plummet; The hail will sweep away the refuge of lies, And the waters will overflow the hiding place. Your covenant with death will be annulled, And your agreement with Sheol will not stand; When the overflowing scourge passes through, Then you will be trampled down by it. As often as it goes out it will take you; For morning by morning it will pass over,)And by day and by night; It will be a terror just to understand the report."
—-
Matthew 7:24-28

Therefore whoever hears these sayings of Mine, and does them, I will liken him to a wise man who built his house on the rock: and the rain descended, the floods came, and the winds blew and beat on that house; and it did not fall, for it was founded on the rock.

"But everyone who hears these sayings of Mine, and does not do them, will be like a foolish man who built his house on the sand: and the rain descended, the floods came, and the winds blew and beat on that house; and it fell. And great was its fall."

And so it was, when Jesus had ended these sayings, that the people were astonished at His teaching, for He taught them as one having authority, and not as the scribes.
—-
Mark 6:1-6
Then He went out from there and came to His own country, and His disciples followed Him. 2And when the Sabbath had come, He began to teach in the synagogue. And many hearing Him were astonished, saying, "Where did this Man get these things? And what wisdom is this which is given to Him, that such mighty works are performed by His hands! 3Is this not the carpenter, the Son of Mary, and brother of James, Joses, Judas, and Simon? And are not His sisters here with us?" So they were offended at Him.
4But Jesus said to them, "A prophet is not without honor except in his own country, among his own relatives, and in his own house." 5Now He could do no mighty work there, except that He laid His hands on a few sick people and healed them. 6And He marveled because of their unbelief. Then He went about the villages in a circuit, teaching.
—
Revelation 19:11-16
Now I saw heaven opened, and behold, a white horse. And He who sat on him was called Faithful and True, and in righteousness He judges and makes war. 12His eyes were like a flame of fire, and on His head were many crowns. He had a name written that no one knew except Himself. 13He was clothed with a robe dipped in blood, and His name is called The Word of God. 14And the armies in heaven, clothed in fine linen, white and clean, followed Him on white horses. 15Now out of His mouth goes a sharp sword, that with it He should strike the nations. And He Himself will rule them with a rod of iron. He Himself treads the winepress of the fierceness and wrath of Almighty God. 16And He has on His robe and on His thigh a name written:
KING OF KINGS AND
LORD OF LORDS.
—-
Artwork: The Three Judges c.1936 Georges Rouault 1871-1958 Bequeathed by Montague Shearman through the Contemporary Art Society 1940 http://www.tate.org.uk/art/work/N05146