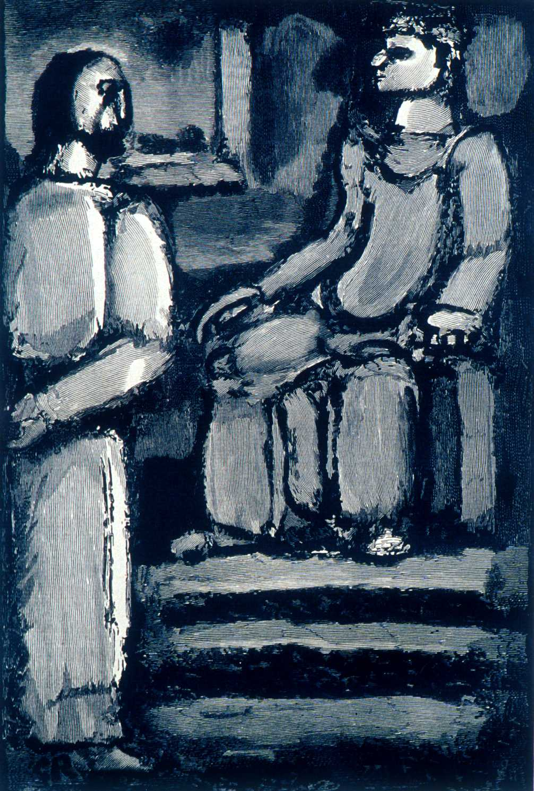 Justice being taken away, then, what are kingdoms but great robberies? For what are robberies themselves, but little kingdoms? The band itself is made up of men; it is ruled by the authority of a prince, it is knit together by the pact of the confederacy; the booty is divided by the law agreed on. If, by the admittance of abandoned men, this evil increases to such a degree that it holds places, fixes abodes, takes possession of cities, and subdues peoples, it assumes the more plainly the name of a kingdom, because the reality is now manifestly conferred on it, not by the removal of covetousness, but by the addition of impunity. Indeed, that was an apt and true reply which was given to Alexander the Great by a pirate who had been seized. For when that king had asked the man what he meant by keeping hostile possession of the sea, he answered with bold pride, "What thou meanest by seizing the whole earth; but because I do it with a petty ship, I am called a robber, whilst thou who dost it with a great fleet art styled emperor.―St. Augustine
—
In Pilate's Court
John 18:28-40


28 Then they led Jesus from Caiaphas to the Praetorium, and it was early morning. But they themselves did not go into the Praetorium, lest they should be defiled, but that they might eat the Passover. 29 Pilate then went out to them and said, "What accusation do you bring against this Man?"

30 They answered and said to him, "If He were not an evildoer, we would not have delivered Him up to you."

31 Then Pilate said to them, "You take Him and judge Him according to your law."
Therefore the Jews said to him, "It is not lawful for us to put anyone to death," 32 that the saying of Jesus might be fulfilled which He spoke, signifying by what death He would die.

33 Then Pilate entered the Praetorium again, called Jesus, and said to Him, "Are You the King of the Jews?"

34 Jesus answered him, "Are you speaking for yourself about this, or did others tell you this concerning Me?"

35 Pilate answered, "Am I a Jew? Your own nation and the chief priests have delivered You to me. What have You done?"

36 Jesus answered, "My kingdom is not of this world. If My kingdom were of this world, My servants would fight, so that I should not be delivered to the Jews; but now My kingdom is not from here."

37 Pilate therefore said to Him, "Are You a king then?"

Jesus answered, "You say rightly that I am a king. For this cause I was born, and for this cause I have come into the world, that I should bear witness to the truth. Everyone who is of the truth hears My voice."

38 Pilate said to Him, "What is truth?" And when he had said this, he went out again to the Jews, and said to them, "I find no fault in Him at all.

Taking the Place of Barabbas

39 "But you have a custom that I should release someone to you at the Passover. Do you therefore want me to release to you the King of the Jews?"
40 Then they all cried again, saying, "Not this Man, but Barabbas!" Now Barabbas was a robber.

—
The Philosophers at Athens
Acts 17:16-34

16 Now while Paul waited for them at Athens, his spirit was provoked within him when he saw that the city was given over to idols. 17 Therefore he reasoned in the synagogue with the Jews and with the Gentile worshipers, and in the marketplace daily with those who happened to be there. 18 Then certain Epicurean and Stoic philosophers encountered him. And some said, "What does this babbler want to say?"

Others said, "He seems to be a proclaimer of foreign gods," because he preached to them Jesus and the resurrection.

19 And they took him and brought him to the Areopagus, saying, "May we know what this new doctrine is of which you speak? 20 For you are bringing some strange things to our ears. Therefore we want to know what these things mean." 21 For all the Athenians and the foreigners who were there spent their time in nothing else but either to tell or to hear some new thing.

Addressing the Areopagus

22 Then Paul stood in the midst of the Areopagus and said, "Men of Athens, I perceive that in all things you are very religious; 23 for as I was passing through and considering the objects of your worship, I even found an altar with this inscription:

TO THE UNKNOWN GOD.

Therefore, the One whom you worship without knowing, Him I proclaim to you: 24 God, who made the world and everything in it, since He is Lord of heaven and earth, does not dwell in temples made with hands. 25 Nor is He worshiped with men's hands, as though He needed anything, since He gives to all life, breath, and all things. 26 And He has made from one blood every nation of men to dwell on all the face of the earth, and has determined their preappointed times and the boundaries of their dwellings, 27 so that they should seek the Lord, in the hope that they might grope for Him and find Him, though He is not far from each one of us; 28 for in Him we live and move and have our being, as also some of your own poets have said, 'For we are also His offspring.' 29 Therefore, since we are the offspring of God, we ought not to think that the Divine Nature is like gold or silver or stone, something shaped by art and man's devising. 30 Truly, these times of ignorance God overlooked, but now commands all men everywhere to repent, 31 because He has appointed a day on which He will judge the world in righteousness by the Man whom He has ordained. He has given assurance of this to all by raising Him from the dead."

32 And when they heard of the resurrection of the dead, some mocked, while others said, "We will hear you again on this matter." 33 So Paul departed from among them. 34 However, some men joined him and believed, among them Dionysius the Areopagite, a woman named Damaris, and others with them.


—
Idolatry is never a culturally specific phenomenon, but rather universally diverse in all of its particular expressions. Under the banner of Christendom and its expansionist excesses of colonialism, various forms of [Western] cultural imperialism amplified the ethnic and racial specificity of the pagan 'other', while surreptitiously masking the paganism of its own. However, Yahweh, since the time of our father Abraham until this present day, is calling a people of every tribe, tongue, and nation out of national and familial attachments to paganism. Simultaneously―being no respecter of persons―God is also calling his people out from thraldoms of cultural Christianity, where ever it has broken yokes of wood and replaced them with yokes of iron.

Ultimately, despite our present reality, God's true church (the bride) will not serve as a brothel for profane culture, no matter how we might dress it up and call it 'Christianity'. Our Kinsman Redeemer―Jesus Christ― is redeeming for himself a bride without spot or wrinkle, holy and without blame.
—-
Isaiah 5:18-23
Woe to those who draw iniquity with cords of [k]vanity,
And sin as if with a cart rope;
19 That say, "Let Him make speed and hasten His work,
That we may see it;
And let the counsel of the Holy One of Israel draw near and come,
That we may know it."
20 Woe to those who call evil good, and good evil;
Who put darkness for light, and light for darkness;
Who put bitter for sweet, and sweet for bitter!
21 Woe to those who are wise in their own eyes,
And prudent in their own sight!
22 Woe to men mighty at drinking wine,
Woe to men valiant for mixing intoxicating drink,
23 Who justify the wicked for a bribe,
And take away justice from the righteous man!
—
Artwork: Georges Rouault "Jesus in Pilates Court"