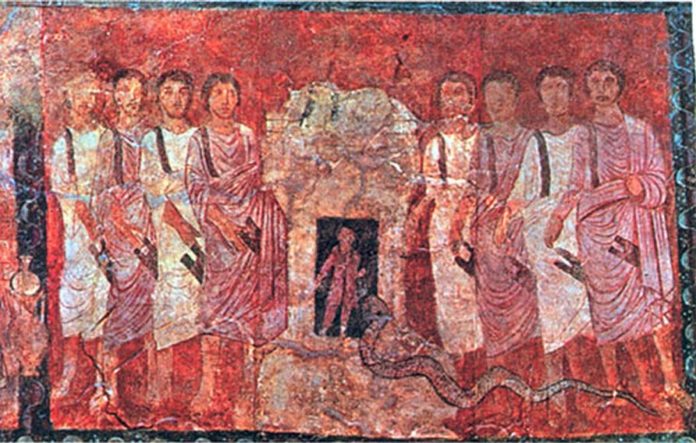 Elijah's Mount Carmel Victory
20 So Ahab sent for all the children of Israel, and gathered the prophets together on Mount Carmel. 21 And Elijah came to all the people, and said, "How long will you falter between two opinions? If the Lord is God, follow Him; but if Baal, follow him." But the people answered him not a word. 22 Then Elijah said to the people, "I alone am left a prophet of the Lord; but Baal's prophets are four hundred and fifty men. 23 Therefore let them give us two bulls; and let them choose one bull for themselves, cut it in pieces, and lay it on the wood, but put no fire under it; and I will prepare the other bull, and lay it on the wood, but put no fire under it. 24 Then you call on the name of your gods, and I will call on the name of the Lord; and the God who answers by fire, He is God."
So all the people answered and said, "It is well spoken."
25 Now Elijah said to the prophets of Baal, "Choose one bull for yourselves and prepare it first, for you are many; and call on the name of your god, but put no fire under it."
26 So they took the bull which was given them, and they prepared it, and called on the name of Baal from morning even till noon, saying, "O Baal, [f]hear us!" But there was no voice; no one answered. Then they [g]leaped about the altar which they had made.
27 And so it was, at noon, that Elijah mocked them and said, "Cry aloud, for he is a god; either he is meditating, or he is busy, or he is on a journey, or perhaps he is sleeping and must be awakened." 28 So they cried aloud, and cut themselves, as was their custom, with knives and lances, until the blood gushed out on them. 29 And when midday was past, they prophesied until the time of the offering of the evening sacrifice. But there was no voice; no one answered, no one paid attention.
30 Then Elijah said to all the people, "Come near to me." So all the people came near to him. And he repaired the altar of the Lord that was broken down. 31 And Elijah took twelve stones, according to the number of the tribes of the sons of Jacob, to whom the word of the Lord had come, saying, "Israel shall be your name." 32 Then with the stones he built an altar in the name of the Lord; and he made a trench around the altar large enough to hold two seahs of seed. 33 And he put the wood in order, cut the bull in pieces, and laid it on the wood, and said, "Fill four waterpots with water, and pour it on the burnt sacrifice and on the wood." 34 Then he said, "Do it a second time," and they did it a second time; and he said, "Do it a third time," and they did it a third time. 35 So the water ran all around the altar; and he also filled the trench with water.
36 And it came to pass, at the time of the offering of the evening sacrifice, that Elijah the prophet came near and said, "Lord God of Abraham, Isaac, and Israel, let it be known this day that You are God in Israel and I am Your servant, and that I have done all these things at Your word. 37 Hear me, O Lord, hear me, that this people may know that You are the Lord God, and that You have turned their hearts back to You again."
38 Then the fire of the Lord fell and consumed the burnt sacrifice, and the wood and the stones and the dust, and it licked up the water that was in the trench. 39 Now when all the people saw it, they fell on their faces; and they said, "The Lord, He is God! The Lord, He is God!"
40 And Elijah said to them, "Seize the prophets of Baal! Do not let one of them escape!" So they seized them; and Elijah brought them down to the Brook Kishon and executed them there.


—-

The greatest danger to Christianity is, I contend, not heresies, heterodoxies, not atheists, not profane secularism – no, but the kind of orthodoxy which is cordial drivel, mediocrity served up sweet. There is nothing that so insidiously displaces the majestic as cordiality. Perpetually polite, so small, so nice, tampering and meddling and tampering some more – the result is that majesty is completely defrauded – of course, only a little bit. And right here is the danger, for the infinite is more disposed to a violent attack than to becoming a little bit degraded – amid smiling, Christian politeness. And yet this politeness is what our Christianity amounts to. But the very essence of Christianity is utterly opposed to this mediocrity, in which it does not so much die as dwindle away. Today's orthodoxy essentially has its abode in the cordial drivel of family life. This is utterly dangerous for Christianity. Christianity does not oppose debauchery and uncontrollable passions and the like as much as it is opposes this flat mediocrity, this nauseating atmosphere, this homey, civil togetherness, where admittedly great crimes, wild excesses, and powerful aberrations cannot easily occur – but where God's unconditional demand has even greater difficulty in accomplishing what it requires: the majestic obedience of submission. Nothing is further from obeying the either/or than this sweet family drivel. Consider what Christ thinks about mediocrity! When the apostle Peter, for instance, with good intentions wanted to keep Christ from being crucified, Christ answered: "Get behind me, Satan! You are an offense to me" (Mk. 8:33). In the world of mediocrity in which we live it is assumed that only crackpots, fanatics, and the like should be deplored as offensive, as inspired by Satan, and that the middle way is the right way, the way that alone is exempted from any such charge. What nonsense! Christ is of another mind: mediocrity is the worst offense, the most dangerous kind of demon possession, farthest removed from the possibility of being cured. To "have" religion on the level of mediocrity is the most unqualified form of perdition.

The advantages and benefits of earthly life are bound up in mediocrity. But genuine religion has an inverse relationship to the finite. Its aim is to raise human beings up so as to transcend what is earthly. It is a matter of either/or. Either prime quality, or no quality at all; either with all your heart, all your mind, and all your strength, or not at all. Either all of God and all of you, or nothing at all! We clever humans, however, prefer to treat faith as if it were something finite, as if it were something for the betterment and enjoyment of temporal life. It is supposed to bring us meaning and fulfillment, happiness and direction. This kind of religion is nothing but a deception. If you were honest and if you would look at it more closely, you would see that this really is contempt for religion, a dangerous and culpable irreligion. True faith insists on being an either/or. To treat it as if it were like drink and food is fundamentally to scorn it. But this is precisely the way of mediocrity. (Soren Kierkegaard Spiritual Provocations, Ch. 4, "'The Greatest danger', pp.16-18)
—
Artwork Source: Wikimedia Commons, public domain. Elijah's challenge of "the 450 prophets of Baal and the 400 prophets of Asherah who eat at Jezebel's table" (1 Kings 18:19) is depicted in two scenes on the walls of the third-century C.E. synagogue at Dura-Europos in modern Syria.