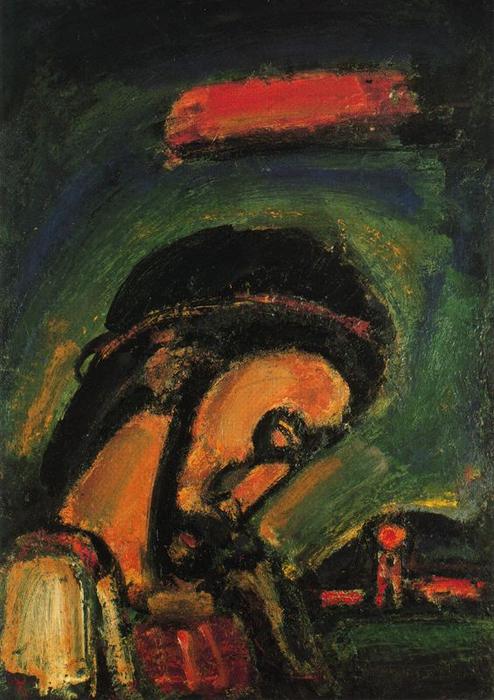 Who has believed our report?
And to whom has the arm of the Lord been revealed?

For He shall grow up before Him as a tender plant,
And as a root out of dry ground.
He has no form or comeliness;
And when we see Him,
There is no beauty that we should desire Him.

He is despised and rejected by men,
A Man of sorrows and acquainted with grief.
And we hid, as it were, our faces from Him;
He was despised, and we did not esteem Him. (Isaiah 53:1-3)
—-
John 12:37-43
But although He had done so many signs before them, they did not believe in Him, that the word of Isaiah the prophet might be fulfilled, which he spoke:
"Lord, who has believed our report?
And to whom has the arm of the Lord been revealed?"
Therefore they could not believe, because Isaiah said again:

"He has blinded their eyes and hardened their hearts,
Lest they should see with their eyes,
Lest they should understand with their hearts and turn,
So that I should heal them."
These things Isaiah said when he saw His glory and spoke of Him.

Walk in the Light

Nevertheless even among the rulers many believed in Him, but because of the Pharisees they did not confess Him, lest they should be put out of the synagogue; for they loved the praise of men more than the praise of God.


—-
John 15:18-25

"If the world hates you, you know that it hated Me before it hated you. If you were of the world, the world would love its own. Yet because you are not of the world, but I chose you out of the world, therefore the world hates you. Remember the word that I said to you, 'A servant is not greater than his master.' If they persecuted Me, they will also persecute you. If they kept My word, they will keep yours also. But all these things they will do to you for My name's sake, because they do not know Him who sent Me. If I had not come and spoken to them, they would have no sin, but now they have no excuse for their sin. He who hates Me hates My Father also. If I had not done among them the works which no one else did, they would have no sin; but now they have seen and also hated both Me and My Father. But this happened that the word might be fulfilled which is written in their law, 'They hated Me without a cause.
—-
Psalm 22:12-21
Many bulls have surrounded Me;
Strong bulls of Bashan have encircled Me.
13 They gape at Me with their mouths,
Like a raging and roaring lion.
14 I am poured out like water,
And all My bones are out of joint;
My heart is like wax;
It has melted within Me.
15 My strength is dried up like a potsherd,
And My tongue clings to My jaws;
You have brought Me to the dust of death.
16 For dogs have surrounded Me;
The congregation of the wicked has enclosed Me.
They pierced My hands and My feet;
17 I can count all My bones.
They look and stare at Me.
18 They divide My garments among them,
And for My clothing they cast lots.
19 But You, O Lord, do not be far from Me;
O My Strength, hasten to help Me!
20 Deliver Me from the sword,
My precious life from the power of the dog.
21 Save Me from the lion's mouth
And from the horns of the wild oxen!
—-
Ezekiel 22:23-31
Israel's Wicked Leaders
23 And the word of the Lord came to me, saying, 24 "Son of man, say to her: 'You are a land that is not [d]cleansed or rained on in the day of indignation.' 25 The conspiracy of her prophets in her midst is like a roaring lion tearing the prey; they have devoured people; they have taken treasure and precious things; they have made many widows in her midst. 26 Her priests have violated My law and profaned My holy things; they have not distinguished between the holy and unholy, nor have they made known the difference between the unclean and the clean; and they have hidden their eyes from My Sabbaths, so that I am profaned among them. 27 Her princes in her midst are like wolves tearing the prey, to shed blood, to destroy people, and to get dishonest gain. 28 Her prophets plastered them with untempered mortar, seeing false visions, and divining lies for them, saying, 'Thus says the Lord God,' when the Lord had not spoken. 29 The people of the land have used oppressions, committed robbery, and mistreated the poor and needy; and they wrongfully oppress the stranger. 30 So I sought for a man among them who would make a wall, and stand in the gap before Me on behalf of the land, that I should not destroy it; but I found no one.
31 Therefore I have poured out My indignation on them; I have consumed them with the fire of My wrath; and I have recompensed their deeds on their own heads," says the Lord God.
—-
Pilate Seeks Jesus' Release
Luke 23:13-25
13 Pilate summoned the chief priests and the rulers and the people, 14 and said to them, "You brought this man before me as one who corrupts and incites the people to rebellion. After examining Him before you, I have found no guilt in this Man regarding the charges which you make against Him. 15 No, nor has Herod, for he sent Him back to us; and indeed, He has done nothing to deserve death. 16 Therefore I will punish Him [to teach Him a lesson] and release Him." 17 [Now he was obligated to release to them one prisoner at the Feast.]
18 But they [loudly] shouted out all together, saying, "Away with this Man, and release Barabbas to us!" 19 (He was one who had been thrown into prison for an insurrection that happened in the city, and for murder.) 20 Pilate addressed them again, wanting to release Jesus, 21 but they kept shouting out, "Crucify, crucify Him!" 22 A third time he said to them, "Why, what wrong has He done? I have found no guilt [no crime, no offense] in Him demanding death; therefore I will punish Him [to teach Him a lesson] and release Him." 23 But they were insistent and unrelenting, demanding with loud voices that Jesus be crucified. And their voices began to prevail and accomplish their purpose. 24 Pilate pronounced sentence that their demand be granted. 25 And he released the man they were asking for who had been thrown into prison for insurrection and murder, but he handed over Jesus to their will.
—-
Artwork: "Jesus Despised" by Georges Rouault