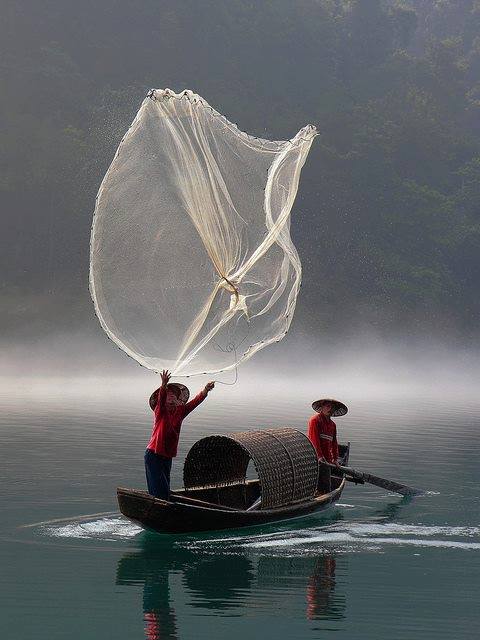 Are You not from everlasting,

O Lord my God, my Holy One?

We shall not die.

O Lord, You have appointed them for judgment;

O Rock, You have marked them for correction.

You are of purer eyes than to behold evil,

And cannot look on wickedness.

Why do You look on those who deal treacherously,

And hold Your tongue when the wicked devours

A person more righteous than he?

14Why do You make men like fish of the sea,

Like creeping things that have no ruler over them?
They take up all of them with a hook,
They catch them in their net,
And gather them in their dragnet.
Therefore they rejoice and are glad.
Therefore they sacrifice to their net,
And burn incense to their dragnet;
Because by them their share is sumptuous
And their food plentiful.
Shall they therefore empty their net,
And continue to slay nations without pity?―Habakkuk 1:12-17
—-
In that day the Lord with His severe sword, great and strong,
Will punish Leviathan the fleeing serpent,
Leviathan that twisted serpent;
And He will slay the reptile that is in the sea.

In that day sing to her,
"A vineyard of red wine!

I, the Lord, keep it,
I water it every moment;
Lest any hurt it,
I keep it night and day.

Fury is not in Me.
Who would set briers and thorns
Against Me in battle?
I would go through them,
I would burn them together.

Or let him take hold of My strength,
That he may make peace with Me;
And he shall make peace with Me."― Isaiah 27:1-5

—-
Job 41:1-34

Can you draw out Leviathan with a hook,
Or snare his tongue with a line which you lower?
Can you put a reed through his nose,
Or pierce his jaw with a hook?
Will he make many supplications to you?
Will he speak softly to you?
Will he make a covenant with you?
Will you take him as a servant forever?
Will you play with him as with a bird,
Or will you leash him for your maidens?
Will your companions make a banquet of him?
Will they apportion him among the merchants?
Can you fill his skin with harpoons,
Or his head with fishing spears?
Lay your hand on him;
Remember the battle—
Never do it again!
Indeed, any hope of overcoming him is false;
Shall one not be overwhelmed at the sight of him?
No one is so fierce that he would dare stir him up.
Who then is able to stand against Me?
Who has preceded Me, that I should pay him?
Everything under heaven is Mine.
"I will not conceal his limbs,
His mighty power, or his graceful proportions.
Who can remove his outer coat?
Who can approach him with a double bridle?
Who can open the doors of his face,
With his terrible teeth all around?
His rows of scales are his pride,
Shut up tightly as with a seal;
One is so near another
That no air can come between them;
They are joined one to another,
They stick together and cannot be parted.
His sneezings flash forth light,
And his eyes are like the eyelids of the morning.
Out of his mouth go burning lights;
Sparks of fire shoot out.
Smoke goes out of his nostrils,
As from a boiling pot and burning rushes.
His breath kindles coals,
And a flame goes out of his mouth.
Strength dwells in his neck,
And sorrow dances before him.
The folds of his flesh are joined together;
They are firm on him and cannot be moved.
His heart is as hard as stone,
Even as hard as the lower millstone.
When he raises himself up, the mighty are afraid;
Because of his crashings they are beside themselves.
Though the sword reaches him, it cannot avail;
Nor does spear, dart, or javelin.
He regards iron as straw,
And bronze as rotten wood.
The arrow cannot make him flee;
Slingstones become like stubble to him.
Darts are regarded as straw;
He laughs at the threat of javelins.
His undersides are like sharp potsherds;
He spreads pointed marks in the mire.
He makes the deep boil like a pot;
He makes the sea like a pot of ointment.
He leaves a shining wake behind him;
One would think the deep had white hair.
On earth there is nothing like him,
Which is made without fear.
He beholds every high thing;
He is king over all the children of pride."
—-
You broke the heads of Leviathan in pieces, And gave him as food to the people inhabiting the wilderness.―Psalm 74:14


—-
Habakkuk 2: 1-14

I will stand upon my watch, and set me upon the tower, and will watch to see what he will say unto me, and what I shall answer when I am reproved.

2And the LORD answered me, and said, Write the vision, and make it plain upon tables, that he may run that readeth it.

3For the vision is yet for an appointed time, but at the end it shall speak, and not lie: though it tarry, wait for it; because it will surely come, it will not tarry.

4Behold, his soul which is lifted up is not upright in him: but the just shall live by his faith.
5Yea also, because he transgresseth by wine, he is a proud man, neither keepeth at home, who enlargeth his desire as hell, and is as death, and cannot be satisfied, but gathereth unto him all nations, and heapeth unto him all people:

Shall not all these take up a parable against him, and a taunting proverb against him, and say, Woe to him that increaseth that which is not his! how long? and to him that ladeth himself with thick clay!

7Shall they not rise up suddenly that shall bite thee, and awake that shall vex thee, and thou shalt be for booties unto them?
8Because thou hast spoiled many nations, all the remnant of the people shall spoil thee; because of men's blood, and for the violence of the land, of the city, and of all that dwell therein.

9Woe to him that coveteth an evil covetousness to his house, that he may set his nest on high, that he may be delivered from the power of evil!

10Thou hast consulted shame to thy house by cutting off many people, and hast sinned against thy soul.

11For the stone shall cry out of the wall, and the beam out of the timber shall answer it.

12Woe to him that buildeth a town with blood, and stablisheth a city by iniquity!

13Behold, is it not of the LORD of hosts that the people shall labour in the very fire, and the people shall weary themselves for very vanity?

14For the earth shall be filled with the knowledge of the glory of the LORD, as the waters cover the sea.
—-
The Vision of Perpetua
I saw a ladder of tremendous height made of bronze, reaching all the way to the heavens, but it was so narrow that only one person could climb up it at a time. To the sides of the ladder were attached all sorts of metal weapons: there were swords, spears, hooks, daggers, and spikes; so that if anyone tried to climb up carelessly or without paying attention, he would be mangled, and his flesh would adhere to the weapons.
At the foot of the ladder lay a dragon of enormous size, and it would attack those who tried to climb up and try to terrify them from doing so. And Saturus [Perpetua's instructor in the Christian faith] was the first to go up, he who was later to give himself up of his own accord. He had been the builder of our strength, although he was not present when we were arrested. And he arrived at the top of the staircase, and he looked back and said to me: "Perpetua, I am waiting for you. But take care; do not let the dragon bite you."
"He will not harm me," I said, "in the name of Christ Jesus."
Slowly, as though he were afraid of me, the dragon stuck his head out from underneath the ladder. Then, using it as my first step, I trod on his head and went up.
Behold, I give unto you power to tread on serpents and scorpions, and over all the power of the enemy: and nothing shall by any means hurt you. (Jesus―Luke 10:19)
And the dragon was wroth with the woman, and went to make war with the remnant of her seed, which keep the commandments of God, and have the testimony of Jesus Christ. (Revelation 12:17)
—
With Reference to: From the Archives: Perpetua & Polycarp: Two Heroic Martyrs, Christian History Institute
---