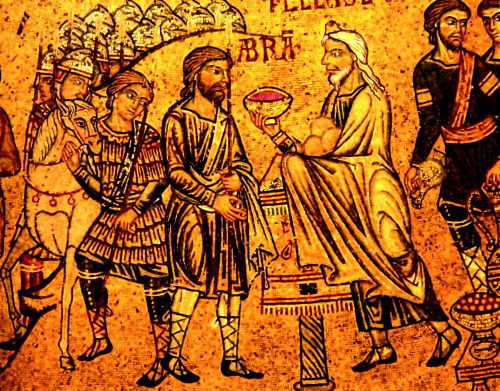 O God, thou art my God; early will I seek thee: my soul thirsteth for thee, my flesh longeth for thee in a dry and thirsty land, where no water is;
2 To see thy power and thy glory, so as I have seen thee in the sanctuary.
3 Because thy lovingkindness is better than life, my lips shall praise thee.
4 Thus will I bless thee while I live: I will lift up my hands in thy name.
5 My soul shall be satisfied as with marrow and fatness; and my mouth shall praise thee with joyful lips:
6 When I remember thee upon my bed, and meditate on thee in the night watches.
7 Because thou hast been my help, therefore in the shadow of thy wings will I rejoice.
8 My soul followeth hard after thee: thy right hand upholdeth me.
9 But those that seek my soul, to destroy it, shall go into the lower parts of the earth.
10 They shall fall by the sword: they shall be a portion for foxes.
11 But the king shall rejoice in God; every one that sweareth by him shall glory: but the mouth of them that speak lies shall be stopped.―Psalm 63
—-
My soul longeth, yea, even fainteth for the courts of the LORD: my heart and my flesh crieth out for the living God.
3Yea, the sparrow hath found an house, and the swallow a nest for herself, where she may lay her young, even thine altars, O LORD of hosts, my King, and my God.
4Blessed are they that dwell in thy house: they will be still praising thee. Selah.
5Blessed is the man whose strength is in thee; in whose heart are the ways of them.
6Who passing through the valley of Baca make it a well; the rain also filleth the pools.
7They go from strength to strength, every one of them in Zion appeareth before God.
8O LORD God of hosts, hear my prayer: give ear, O God of Jacob. Selah.
9Behold, O God our shield, and look upon the face of thine anointed.
10For a day in thy courts is better than a thousand. I had rather be a doorkeeper in the house of my God, than to dwell in the tents of wickedness.
11For the LORD God is a sun and shield: the LORD will give grace and glory: no good thing will he withhold from them that walk uprightly.
12O LORD of hosts, blessed is the man that trusteth in thee.―Psalm 84
—-
The Church on earth is full of souls healed by our beloved Physician; and the inhabitants of heaven itself confess that "He healed them all."


"SALVATION BELONGS TO THE LORD! — JONAH 2:9 Salvation is the work of God. It is He alone who quickens the soul "dead in . . . trespasses and sins,"1 and He it is who maintains the soul in its spiritual life. He is both "Alpha and Omega." "Salvation belongs to the LORD!" If I am prayerful, God makes me prayerful; if I have graces, they are God's gifts to me; if I hold on in a consistent life, it is because He upholds me with His hand. I do nothing whatever toward my own preservation, except what God Himself first does in me. Whatever I have, all my goodness is of the Lord alone. Whenever I sin, that is my own doing; but when I act correctly, that is wholly and completely of God. If I have resisted a spiritual enemy, the Lord's strength nerved my arm. Do I live before men a consecrated life? It is not I, but Christ who lives in me. Am I sanctified? I did not cleanse myself: God's Holy Spirit sanctifies me. Am I separated from the world? I am separated by God's chastisements sanctified to my good. Do I grow in knowledge? The great Instructor teaches me. All my jewels were fashioned by heavenly art. I find in God all that I want; but I find in myself nothing but sin and misery. "He only is my rock and my salvation."2 Do I feed on the Word? That Word would be no food for me unless the Lord made it food for my soul and helped me to feed upon it. Do I live on the bread that comes down from heaven? What is that bread but Jesus Christ Himself incarnate, whose body and whose blood I eat and drink? Am I continually receiving fresh supplies of strength? Where do I gather my might? My help comes from heaven's hills: Without Jesus I can do nothing. As a branch cannot bring forth fruit except it abide in the vine, no more can I, except I abide in Him. What Jonah learned in the ocean, let me learn this morning in my room: "Salvation belongs to the LORD."
― Charles H. Spurgeon, Morning and Evening-Classic KJV Edition