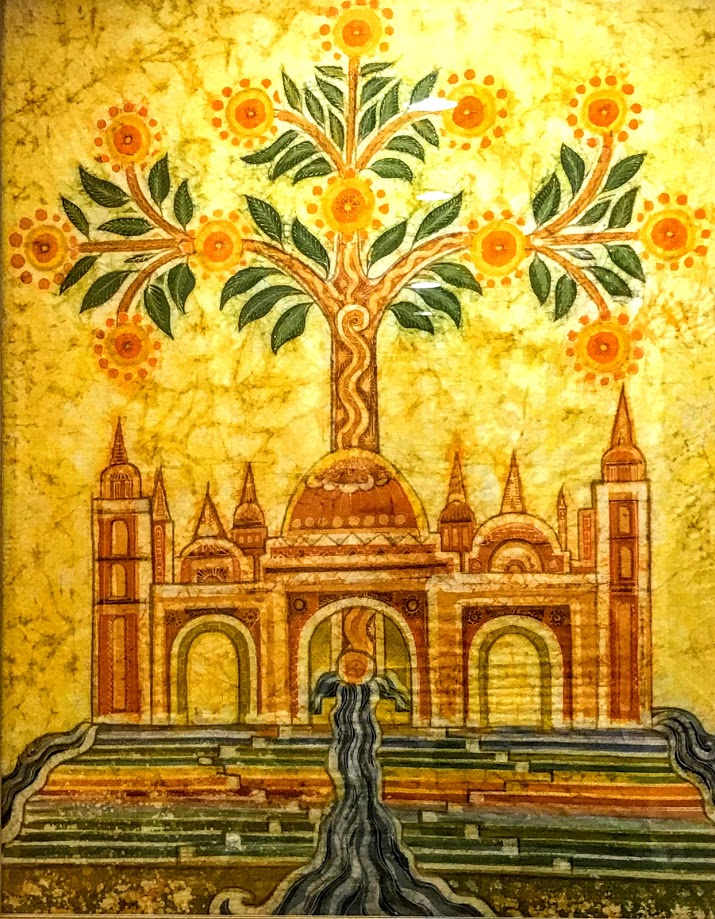 Matthew 23:7-39
7 "Woe to you, scribes and Pharisees, hypocrites! For you are like whitewashed tombs which indeed appear beautiful outwardly, but inside are full of dead men's bones and all uncleanness. 28 Even so you also outwardly appear righteous to men, but inside you are full of hypocrisy and lawlessness.
29 "Woe to you, scribes and Pharisees, hypocrites! Because you build the tombs of the prophets and adorn the monuments of the righteous, 30 and say, 'If we had lived in the days of our fathers, we would not have been partakers with them in the blood of the prophets.'
31 "Therefore you are witnesses against yourselves that you are sons of those who murdered the prophets. 32 Fill up, then, the measure of your fathers' guilt. 33 Serpents, brood of vipers! How can you escape the condemnation of hell? 34 Therefore, indeed, I send you prophets, wise men, and scribes: some of them you will kill and crucify, and some of them you will scourge in your synagogues and persecute from city to city, 35 that on you may come all the righteous blood shed on the earth, from the blood of righteous Abel to the blood of Zechariah, son of Berechiah, whom you murdered between the temple and the altar. 36 Assuredly, I say to you, all these things will come upon this generation."
Jesus Laments Jerusalem
37 "O Jerusalem, Jerusalem, the one who kills the prophets and stones those who are sent to her! How often I wanted to gather your children together, as a hen gathers her chicks under her wings, but you were not willing! 38 See! Your house is left to you desolate; 39 for I say to you, you shall see Me no more till you say, 'Blessed is He who comes in the name of the Lord!' "
—
Luke 23:26-31
Now as they led Him away, they laid hold of a certain man, Simon a Cyrenian, who was coming from the country, and on him they laid the cross that he might bear it after Jesus.
27 And a great multitude of the people followed Him, and women who also mourned and lamented Him. 28 But Jesus, turning to them, said, "Daughters of Jerusalem, do not weep for Me, but weep for yourselves and for your children. 29 For indeed the days are coming in which they will say, 'Blessed are the barren, wombs that never bore, and breasts which never nursed!' 30 Then they will begin 'to say to the mountains, "Fall on us!" and to the hills, "Cover us!" ' 31 For if they do these things in the green wood, what will be done in the dry?"
—
Psalm 50
The mighty God, even the Lord, hath spoken, and called the earth from the rising of the sun unto the going down thereof.
2 Out of Zion, the perfection of beauty, God hath shined.
3 Our God shall come, and shall not keep silence: a fire shall devour before him, and it shall be very tempestuous round about him.
4 He shall call to the heavens from above, and to the earth, that he may judge his people.
5 Gather my saints together unto me; those that have made a covenant with me by sacrifice.
6 And the heavens shall declare his righteousness: for God is judge himself. Selah.
7 Hear, O my people, and I will speak; O Israel, and I will testify against thee: I am God, even thy God.
8 I will not reprove thee for thy sacrifices or thy burnt offerings, to have been continually before me.
9 I will take no bullock out of thy house, nor he goats out of thy folds.
10 For every beast of the forest is mine, and the cattle upon a thousand hills.
11 I know all the fowls of the mountains: and the wild beasts of the field are mine.
12 If I were hungry, I would not tell thee: for the world is mine, and the fulness thereof.
13 Will I eat the flesh of bulls, or drink the blood of goats?
14 Offer unto God thanksgiving; and pay thy vows unto the most High:
15 And call upon me in the day of trouble: I will deliver thee, and thou shalt glorify me.
16 But unto the wicked God saith, What hast thou to do to declare my statutes, or that thou shouldest take my covenant in thy mouth?
17 Seeing thou hatest instruction, and casteth my words behind thee.
18 When thou sawest a thief, then thou consentedst with him, and hast been partaker with adulterers.
19 Thou givest thy mouth to evil, and thy tongue frameth deceit.
20 Thou sittest and speakest against thy brother; thou slanderest
thine own mother's son
21 These things hast thou done, and I kept silence; thou thoughtest that I was altogether such an o ne as thyself: but I will reprove thee, and set them in order before thine eyes.
22 Now consider this, ye that forget God, lest I tear you in pieces, and there be none to deliver.
23 Whoso offereth praise glorifieth me: and to him that ordereth his conversation aright will I shew the salvation of God.
—
Ezekiel 16:1-43


God's Love for Jerusalem

1 Again the word of the Lord came to me, saying, 2 "Son of man, cause Jerusalem to know her abominations, 3 and say, 'Thus says the Lord God to Jerusalem: "Your birth and your nativity are from the land of Canaan; your father was an Amorite and your mother a Hittite. 4 As for your nativity, on the day you were born your navel cord was not cut, nor were you washed in water to cleanse you; you were not rubbed with salt nor wrapped in swaddling cloths. 5 No eye pitied you, to do any of these things for you, to have compassion on you; but you were thrown out into the open field, when you yourself were loathed on the day you were born.

6 "And when I passed by you and saw you struggling in your own blood, I said to you in your blood, 'Live!' Yes, I said to you in your blood, 'Live!' 7 I made you thrive like a plant in the field; and you grew, matured, and became very beautiful. Your breasts were formed, your hair grew, but you were naked and bare.

8 "When I passed by you again and looked upon you, indeed your time was the time of love; so I spread My wing over you and covered your nakedness. Yes, I swore an oath to you and entered into a covenant with you, and you became Mine," says the Lord God.

9 "Then I washed you in water; yes, I thoroughly washed off your blood, and I anointed you with oil. 10 I clothed you in embroidered cloth and gave you sandals of badger skin; I clothed you with fine linen and covered you with silk. 11 I adorned you with ornaments, put bracelets on your wrists, and a chain on your neck. 12 And I put a jewel in your nose, earrings in your ears, and a beautiful crown on your head. 13 Thus you were adorned with gold and silver, and your clothing was of fine linen, silk, and embroidered cloth. You ate pastry of fine flour, honey, and oil. You were exceedingly beautiful, and succeeded to royalty. 14 Your fame went out among the nations because of your beauty, for it was perfect through My splendor which I had bestowed on you," says the Lord God.

Jerusalem's Harlotry

15 "But you trusted in your own beauty, played the harlot because of your fame, and poured out your harlotry on everyone passing by who would have it. 16 You took some of your garments and adorned multicolored high places for yourself, and played the harlot on them. Such things should not happen, nor be. 17 You have also taken your beautiful jewelry from My gold and My silver, which I had given you, and made for yourself male images and played the harlot with them. 18 You took your embroidered garments and covered them, and you set My oil and My incense before them. 19 Also My food which I gave you—the pastry of fine flour, oil, and honey which I fed you—you set it before them as sweet incense; and so it was," says the Lord God.

20 "Moreover you took your sons and your daughters, whom you bore to Me, and these you sacrificed to them to be devoured. Were your acts of harlotry a small matter, 21 that you have slain My children and offered them up to them by causing them to pass through the fire? 22 And in all your abominations and acts of harlotry you did not remember the days of your youth, when you were naked and bare, struggling in your blood.

23 "Then it was so, after all your wickedness—'Woe, woe to you!' says the Lord God— 24 that you also built for yourself a shrine, and made a high place for yourself in every street. 25 You built your high places at the head of every road, and made your beauty to be abhorred. You offered yourself to everyone who passed by, and multiplied your acts of harlotry. 26 You also committed harlotry with the Egyptians, your very fleshly neighbors, and increased your acts of harlotry to provoke Me to anger.

27 "Behold, therefore, I stretched out My hand against you, diminished your allotment, and gave you up to the will of those who hate you, the daughters of the Philistines, who were ashamed of your lewd behavior. 28 You also played the harlot with the Assyrians, because you were insatiable; indeed you played the harlot with them and still were not satisfied. 29 Moreover you multiplied your acts of harlotry as far as the land of the trader, Chaldea; and even then you were not satisfied.
30 "How degenerate is your heart!" says the Lord God, "seeing you do all these things, the deeds of a brazen harlot.

Jerusalem's Adultery

31 "You erected your shrine at the head of every road, and built your high place in every street. Yet you were not like a harlot, because you scorned payment. 32 You are an adulterous wife, who takes strangers instead of her husband. 33 Men make payment to all harlots, but you made your payments to all your lovers, and hired them to come to you from all around for your harlotry. 34 You are the opposite of other women in your harlotry, because no one solicited you to be a harlot. In that you gave payment but no payment was given you, therefore you are the opposite."

Jerusalem's Lovers Will Abuse Her

35 'Now then, O harlot, hear the word of the Lord! 36 Thus says the Lord God: "Because your filthiness was poured out and your nakedness uncovered in your harlotry with your lovers, and with all your abominable idols, and because of the blood of your children which you gave to them, 37 surely, therefore, I will gather all your lovers with whom you took pleasure, all those you loved, and all those you hated; I will gather them from all around against you and will uncover your nakedness to them, that they may see all your nakedness. 38 And I will judge you as women who break wedlock or shed blood are judged; I will bring blood upon you in fury and jealousy. 39 I will also give you into their hand, and they shall throw down your shrines and break down your high places. They shall also strip you of your clothes, take your beautiful jewelry, and leave you naked and bare.

40 "They shall also bring up an assembly against you, and they shall stone you with stones and thrust you through with their swords. 41 They shall burn your houses with fire, and execute judgments on you in the sight of many women; and I will make you cease playing the harlot, and you shall no longer hire lovers. 42 So I will lay to rest My fury toward you, and My jealousy shall depart from you. I will be quiet, and be angry no more. 43 Because you did not remember the days of your youth, but agitated Me with all these things, surely I will also recompense your deeds on your own head," says the Lord God. "And you shall not commit lewdness in addition to all your abominations.



—
Ezekiel 28:1-24

The word of the Lord came to me again, saying, 2 "Son of man, say to the prince of Tyre, 'Thus says the Lord God:

"Because your heart is lifted up,
And you say, 'I am a god,
I sit in the seat of gods,
In the midst of the seas,'
Yet you are a man, and not a god,
Though you set your heart as the heart of a god
3
(Behold, you are wiser than Daniel!
There is no secret that can be hidden from you!
4
With your wisdom and your understanding
You have gained riches for yourself,
And gathered gold and silver into your treasuries;
5
By your great wisdom in trade you have increased your riches,
And your heart is lifted up because of your riches),"
6 'Therefore thus says the Lord God:
"Because you have set your heart as the heart of a god,
7
Behold, therefore, I will bring strangers against you,
The most terrible of the nations;
And they shall draw their swords against the beauty of your wisdom,
And defile your splendor.
8
They shall throw you down into the Pit,
And you shall die the death of the slain
In the midst of the seas.
9
"Will you still say before him who slays you,
'I am a god'?
But you shall be a man, and not a god,
In the hand of him who slays you.
10
You shall die the death of the uncircumcised
By the hand of aliens;
For I have spoken," says the Lord God.' "

Lamentation for the King of Tyre

11 Moreover the word of the Lord came to me, saying, 12 "Son of man, take up a lamentation for the king of Tyre, and say to him, 'Thus says the Lord God:
"You were the seal of perfection,
Full of wisdom and perfect in beauty.
13
You were in Eden, the garden of God;
Every precious stone was your covering:
The sardius, topaz, and diamond,
Beryl, onyx, and jasper,
Sapphire, turquoise, and emerald with gold.
The workmanship of your timbrels and pipes
Was prepared for you on the day you were created.
14
"You were the anointed cherub who covers;
I established you;
You were on the holy mountain of God;
You walked back and forth in the midst of fiery stones.
15
You were perfect in your ways from the day you were created,
Till iniquity was found in you.
16
"By the abundance of your trading
You became filled with violence within,
And you sinned;
Therefore I cast you as a profane thing
Out of the mountain of God;
And I destroyed you, O covering cherub,
From the midst of the fiery stones.
17
"Your heart was lifted up because of your beauty;
You corrupted your wisdom for the sake of your splendor;
I cast you to the ground,
I laid you before kings,
That they might gaze at you.
18
"You defiled your sanctuaries
By the multitude of your iniquities,
By the iniquity of your trading;
Therefore I brought fire from your midst;
It devoured you,
And I turned you to ashes upon the earth
In the sight of all who saw you.
19
All who knew you among the peoples are astonished at you;
You have become a horror,
And shall be no more forever."
Proclamation Against Sidon
20 Then the word of the Lord came to me, saying, 21 "Son of man, set your face toward Sidon, and prophesy against her, 22 and say, 'Thus says the Lord God:
"Behold, I am against you, O Sidon;
I will be glorified in your midst;
And they shall know that I am the Lord,
When I execute judgments in her and am hallowed in her.
23
For I will send pestilence upon her,
And blood in her streets;
The wounded shall be judged in her midst
By the sword against her on every side;
Then they shall know that I am the Lord.
24 "And there shall no longer be a pricking brier or a painful thorn for the house of Israel from among all who are around them, who despise them. Then they shall know that I am the Lord God."
---
—
There came one who spoke of the shame of Jerusalem
And the holy places defiled;
Peter the Hermit, scourging with words.
And among his hearers were a few good men,
Many who were evil,
And most who were neither,
Like all men in all places.—T.S. Eliot (Choruses from the Rock)
—
Artwork: The Holy City', a colourful picture by Thetis Blacker