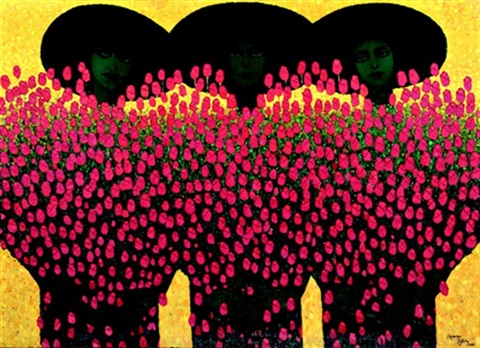 This good woman next blessed Solomon's God in these beautiful Words—"Blessed be the Lord thy God, which delighteth in thee, to set thee on the throne of Israel: because the Lord loved Israel for ever, therefore made he thee king to do judgment and justice." She blessed his God. So we are drawn to a sweet union of heart to God through a knowledge of Christ, and as our love flows downward ward from Christ to his people, so it goes upward from Christ to his Father. You will notice that she avowed her love to him because of his everlasting love to his people. Notice, she does not say anything about Abyssinia— she is thinking about Israel, about the chosen. She sees distinguishing, discriminating, electing love, and she perceives the everlastingness of this love—"Because he loved Israel for ever, therefore he has made thee king." O brethren and sisters, may we so grow in grace that we may love the Father because he hath made Christ to be the anointed for this reason, because he loved his Church and gave his Son for it, that he might cleanse it from all sin by his own precious blood.

Once more, she then did what was the best proof of her truthfulness, she gave to Solomon of her treasures—"She gave the king a hundred and twenty talents of gold, and of spices very great store, and precious stones: there came no more such abundance of spices as these which the Queen of Sheba gave to King Solomon." And so souls that know the beauty of Christ give him all they have. There are no such spices as those which come from newly-converted souls. Nothing gives Christ greater delight than the love of his people. We think our love to be a very poor and common thing, but he does not think so—he has set such a store by us that he gave his heart's blood to redeem us, and now he looks upon us as being worth the price he paid. He never will think that he had a bad bargain of it, and so he looks upon every grain of our love as being even choicer spices than archangels before the throne can render to him in their songs. What are we doing for Christ? Are we bringing him our talents of gold? Perhaps you have not one hundred and twenty, but if you have one bring that; you have not very much spices, but bring what ye have—your silent, earnest prayers, your holy, consistent life, the words you sometimes speak for Christ, the training up of your children, the feeding of his poor, the clothing of the naked, the visitation of the sick, the comforting of his mourners, the winning of his wanderers, the restoring of his backsliders, the saving of his blood-bought souls—all these shall be like camels laden with spices, an acceptable gift to the Most High.

When she had done this, Solomon made her a present of his royal bounty. She lost nothing; she gave all she had, and then Solomon gave her quite as much again, for I will be bound to say King Solomon would not be outdone in generosity, such a noble-hearted prince as he, and so rich. I tell you Jesus Christ will never be in your debt. Oh, it is a great gain to give to Christ; we give him pence and he gives us pounds; we give him years of labour and he gives us an eternity of rest; we give him days of patient endurance and he gives us ages of joyous honour; we give him a little suffering and he gives us great rewards. "I reckon that the sufferings of this present life are not worthy to be compared with the glory which shall be revealed in us." Besides what he gives us in the covenant of grace, you note, he does for us what Solomon did for her, he gives us all that is in our heart, all that we can desire. What a King is our Saviour, who will not let his people have one ungratified wish, if that wish is a good one! Knock and the gate shall open. "Open thy mouth wide and I will fill it," saith the Lord. "According to your faith so be it done unto you." "Whatsoever ye ask in prayer believe that ye have it, and ye shall have it." What precious promises, and all these are given to those who come with a humble enquiry, willing to get Christ first and then to get the rest afterwards.

Well, beloved, we are told that this Queen went home to her nation, and tradition says, that she was the means of proselytizing the Abyssinian people. I do not know whether that was true or not. It is remarkable that in the apostles' days, there should have been an eunuch, a man of great authority under Candace, Queen of Ethiopia—it looks as if there may have lingered something of the divine light in this woman's dominions right on to the day of the Saviour, so that there was found another queen there at that time, and another noble personage who would come all that distance to Jerusalem for to worship. Well, whether she did so not, I know what you ought to do; if you have come to King Solomon, and searched and found for yourselves, go and spread the fame of it; talk about him everywhere. It was the fame of him that first brought you: increase that fame and others will come. Talk of him when thou stayest in thine house and when thou goest by the way, when thou sittest down and when thou risest up; count no place to be an unfit place to talk of Jesus; bear him in thy bosom in thy business; carry him in thy heart in thy pleasures; wear his name as a frontlet between thine eyes, and write it on the door-posts of thy house, for he is worthy for whom thou shalt do this. His name shall be remembered as long as the sun, and men shall be blessed in him—yea, all men shall call him blessed, all kings shall fall down before him; the kings of Sheba and Seba shall offer gifts, the whole earth shall be filled with his glory. Amen and amen. The prayers of David, the son of Jesse, were ended; and so shall ours be, too, when that consummation shall have really taken place.


Source: Charles H. Spurgeon Sermon: The Queen of The South, or The Earnest Enquirer: https://www.spurgeon.org/resource-library/sermons/the-queen-of-the-south-or-the-earnest-enquirer/
Artwork by Getahun Assefa